Mimmi Smith - Urban Natives
Köpmansgatan 11A, 411 06 Göteborg
39 murals from ArtMadeThis
Drottninggatan 65
Josefin Eklund, Maria Pohl - The wounded divas
Östra Larmgatan 11, 411 07 Göteborg
Koralie & SupaKitch - Peace dove
Östra Hamngatan 52, 411 08 Göteborg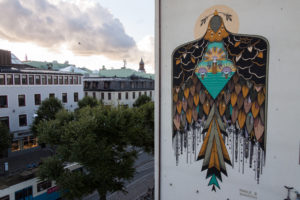 Mimmi Andersson, Merete Lassen - Queen Bee
Kungsgatan 63, 411 08 Göteborg
Joakim Stampe - Donation X
Vallgatan 42, 411 16 Göteborg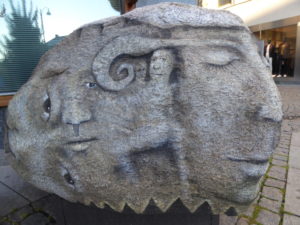 Maria Pohl
Kyrkogatan 27, 411 15 Göteborg
Ellen Alström - Waiting for the icebreaker
Kyrkogatan 20, 411 15 Göteborg
Linda Spåman - One more day
Vallgatan 16, 411 16 Göteborg
Ebba Chambert - Jai ma
Vallgatan 19, 411 16 Göteborg
Shai Dahan, Inkie - Gentleman
Västra Hamngatan 27, 411 17 Göteborg
Llefen Carrera - Natures Dust
Södra Larmgatan 1, 411 20 Göteborg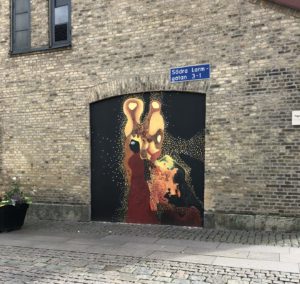 Sophie Mess
Magasinsgatan 17, 411 16 Göteborg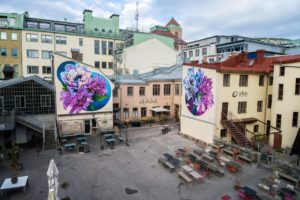 Sandra Betancort - Prismas
Vallgatan 4, 411 16 Göteborg
SCEB - Urban Jungle
Vallgatan 7, 411 16 Göteborg
Angelica Lucaci
Kungsgatan 32, 411 19 Göteborg
Alina Vergnano - Stand Still
Kyrkogatan 5, 411 15 Göteborg
Amanda Karlsson - Uncanny Valley
Skeppsbroplatsen 1, 411 21 Göteborg
Joakim Stampe - Donation X
Lasarettsgatan 2, 411 19 Göteborg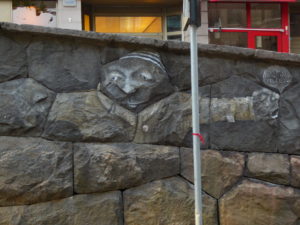 Rafael Alencar - Pantanal - Sista konstverket
Esperantoplatsen 2, 411 21 Göteborg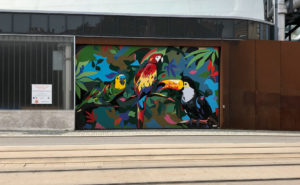 The city centre of Gothenburg is busy, lively and filled with world class urban art. We created a route that will take you among some of the best works, but be sure that new artworks can pop up around any corner.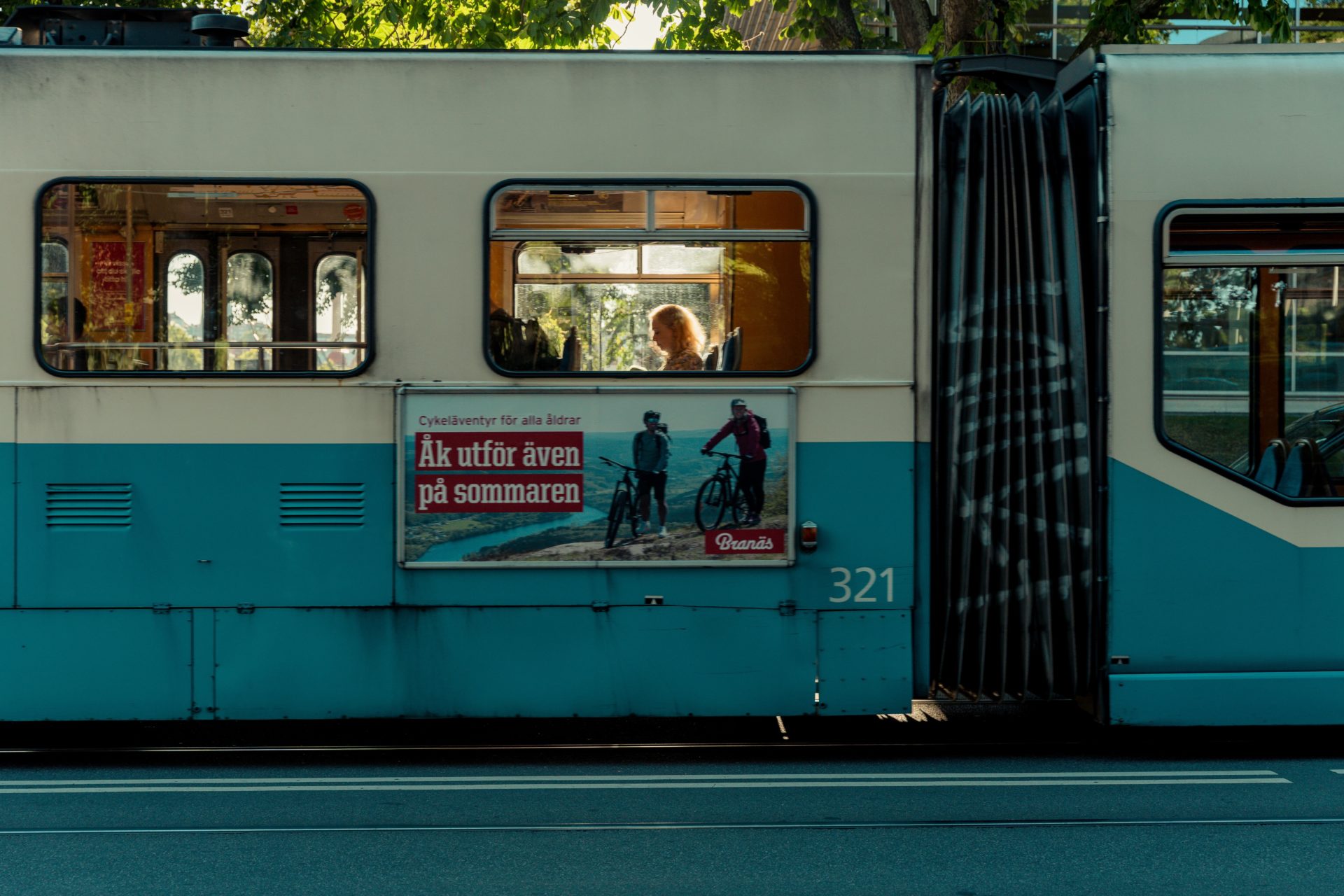 Go ahead and follow our route as you explore a lot of what street art organization Art Made This has done throughout the years. Art Made This has helped emerging artists reach a myriad of walls around Gothenburg city center and you'll find them sprawled along all the other murals and paintings. Their most recent creations in the area can be found in a multistorey car park, where 39 murals can be found!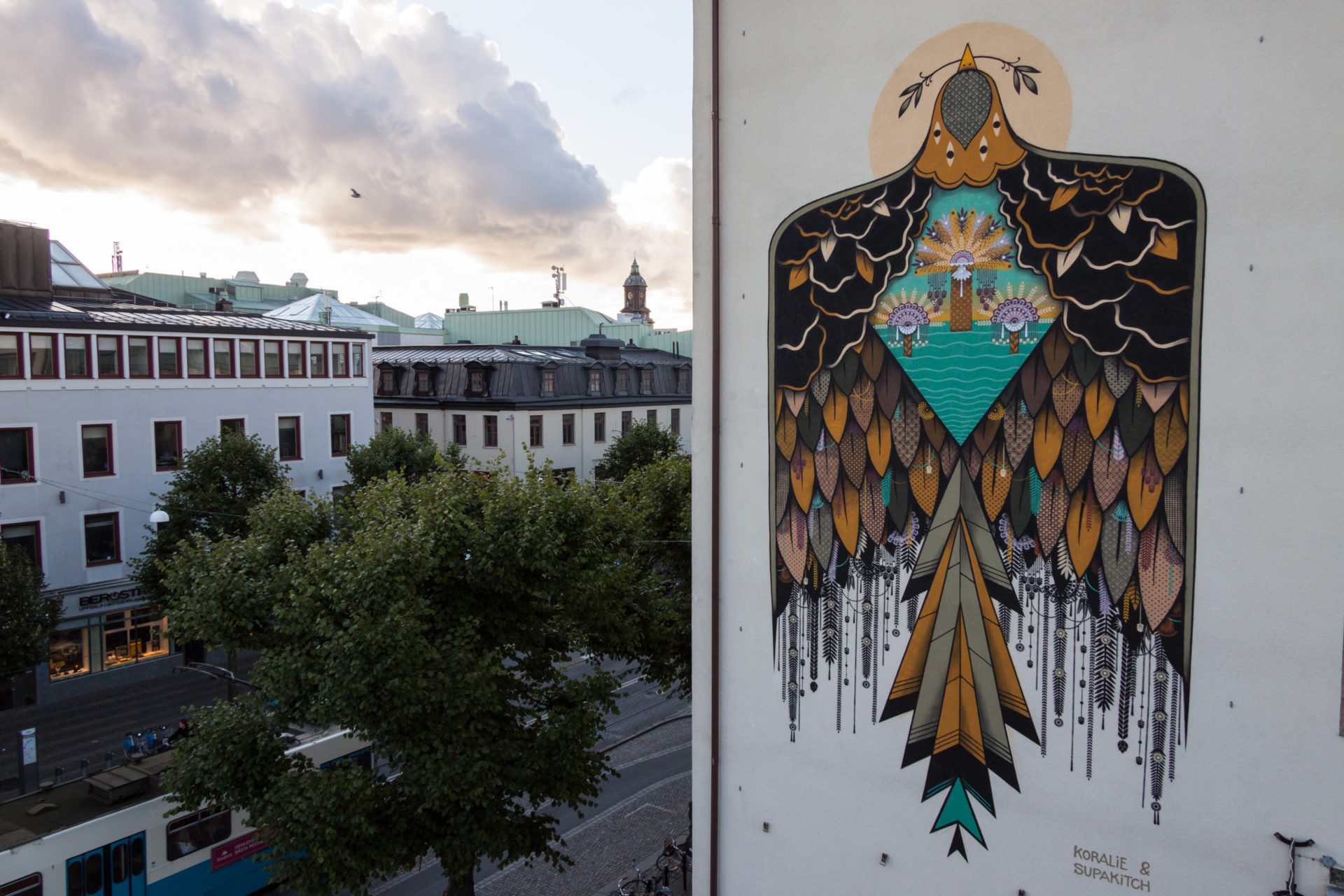 Stop at Kungsportsplatsen and have a look at the magnificent bird done by Koralie & Supakitch, created during Artscapes 2016 project in the city.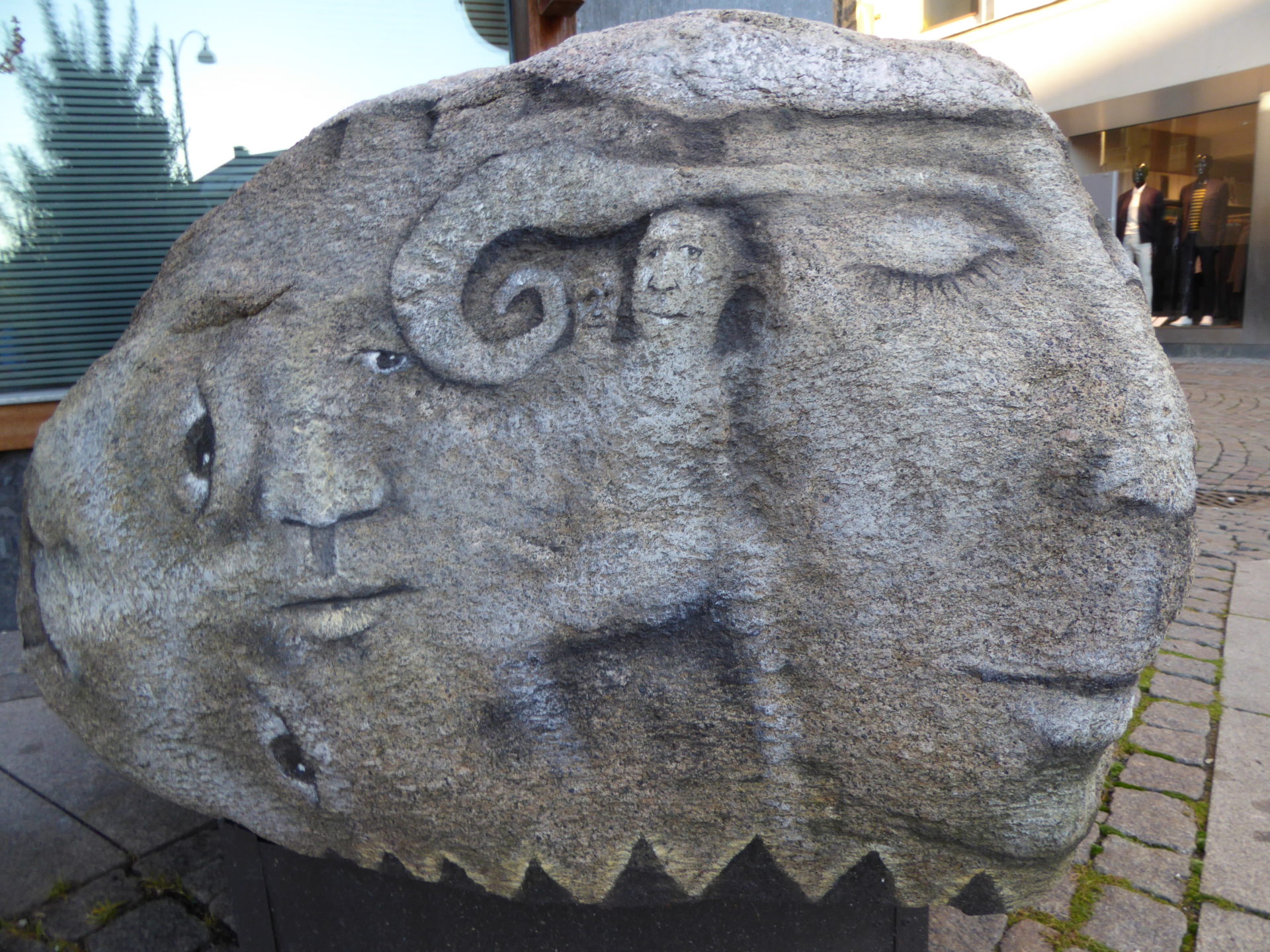 Next, let's have a look for a part of Joakim Stampe's Donation X project. Often consisting of faces painted on stones in the urban environment, the Donation X project sets focus on the art of gifting.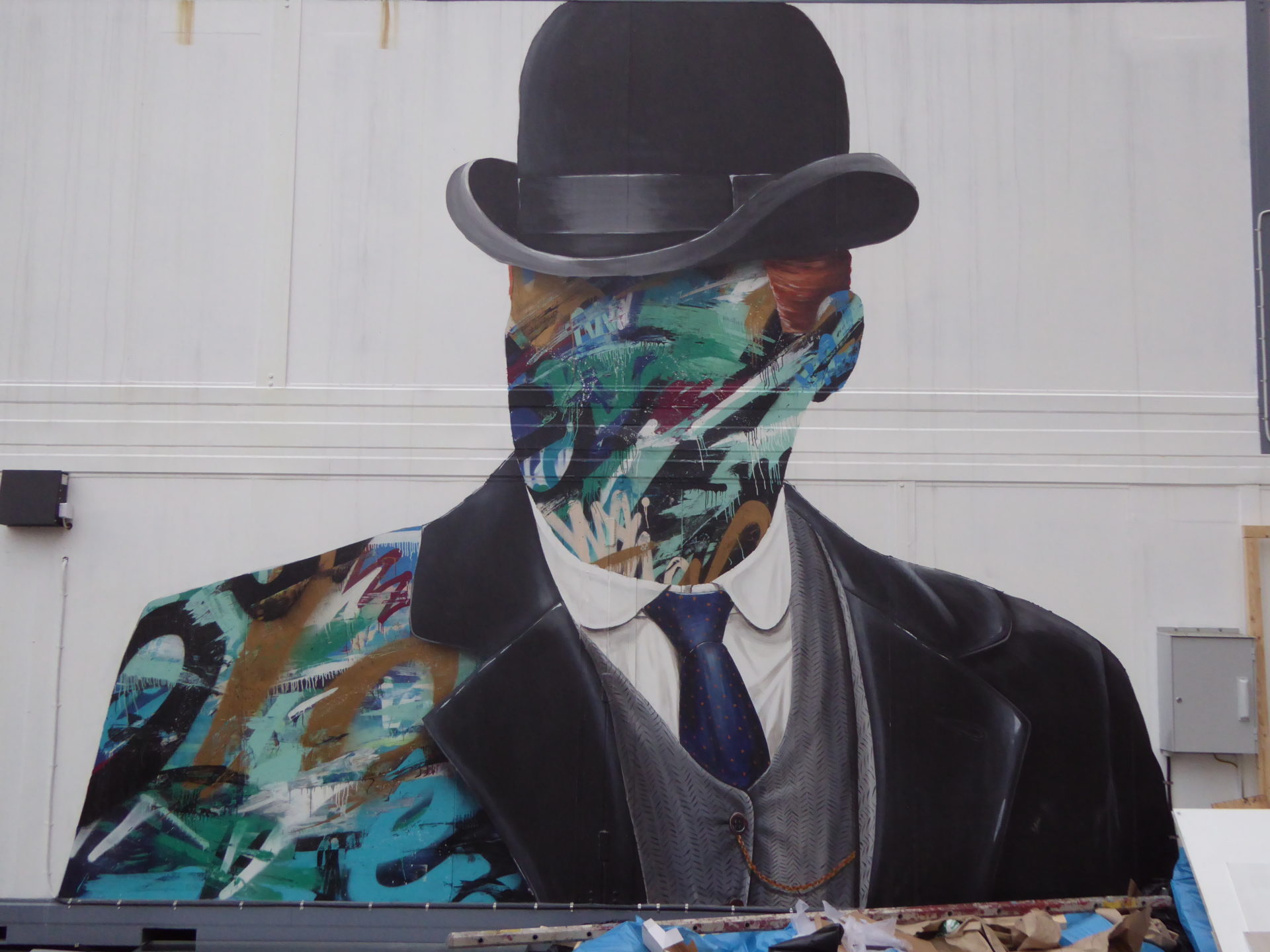 On the back of Pixbar you'll find the collaborative piece "Gentleman" by Shai Dahan and Inkie.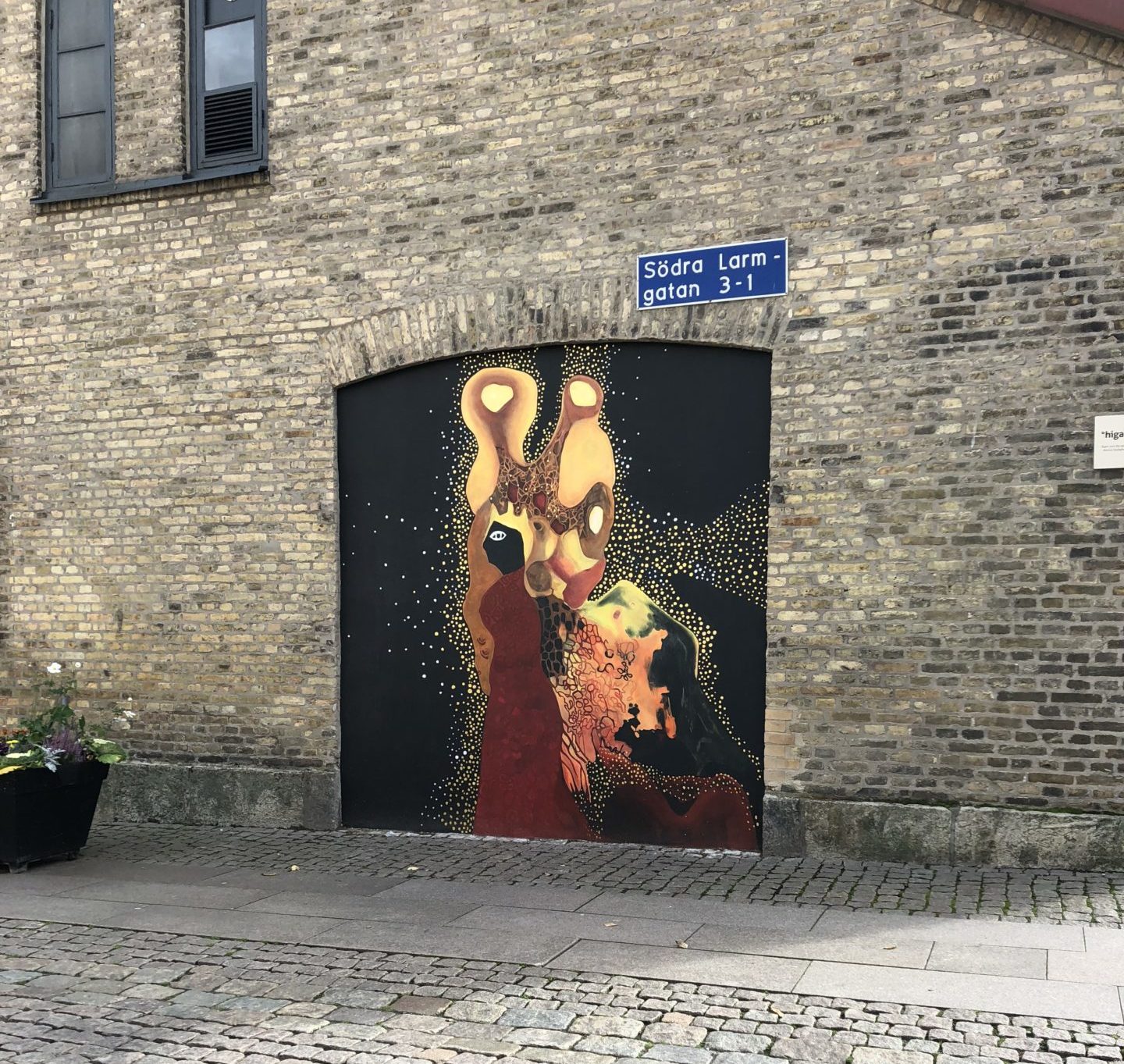 Strömstad-born Lleffen Carrera blends abstract art and portraits often using leaf gold as part of her process.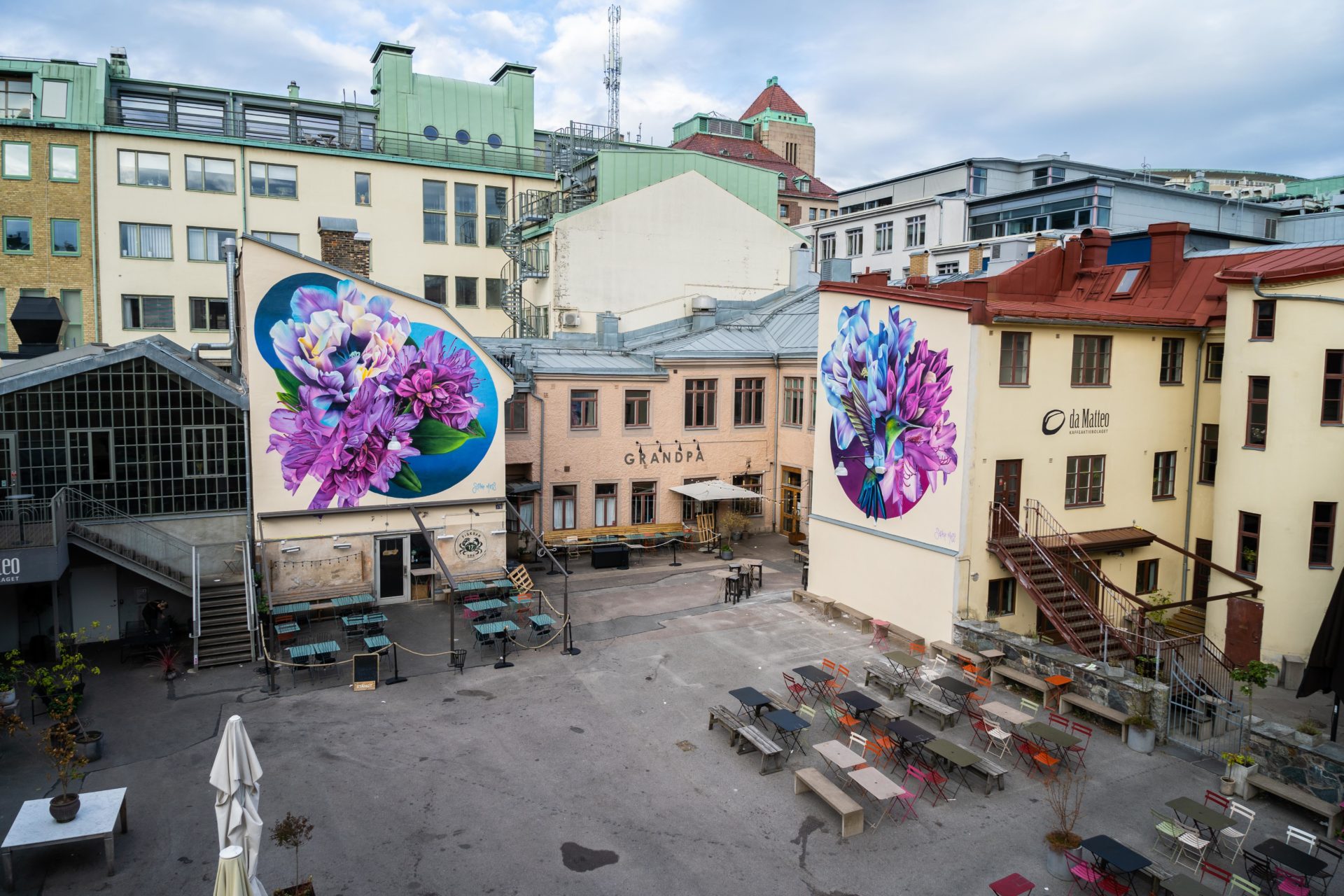 On the small square at Magasinsgatan above the cafes and restaurants (all worth a visit), you'll find the large pieces by British Sophie Mess. Mess often uses flowers as part of her motifs and the story goes that these Rhododendrons were actually photographed here in Sweden as she was doing a project in Strömstad.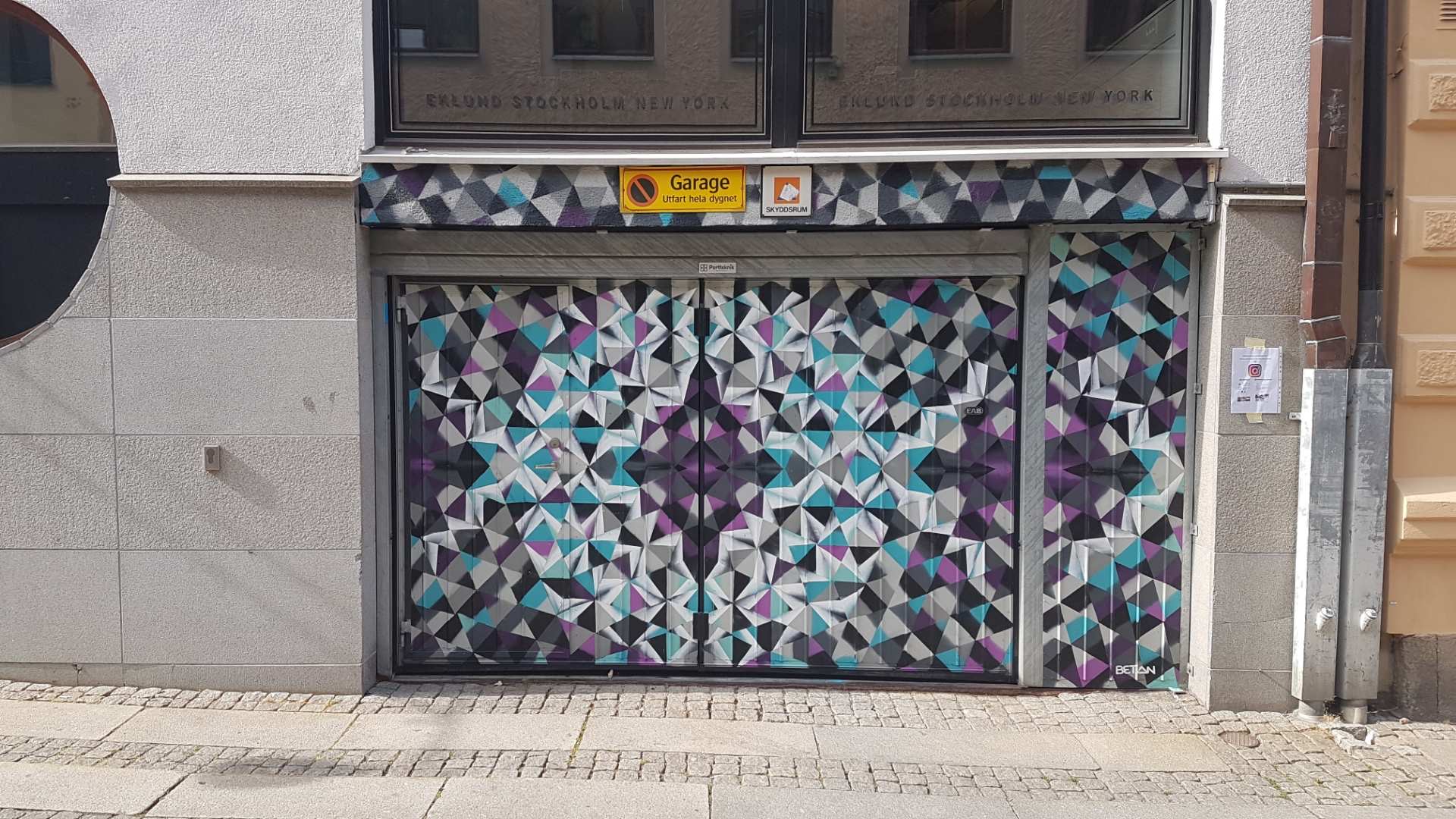 Continue to explore the works curated by Art Made This, this time around its local hero SCEB who take on the urban jungle in her distinct style. Just down the street, another street art organization helping to shape the look of Gothenburg are Sätt färg på, as this mural by Sandra Betacort is proof of.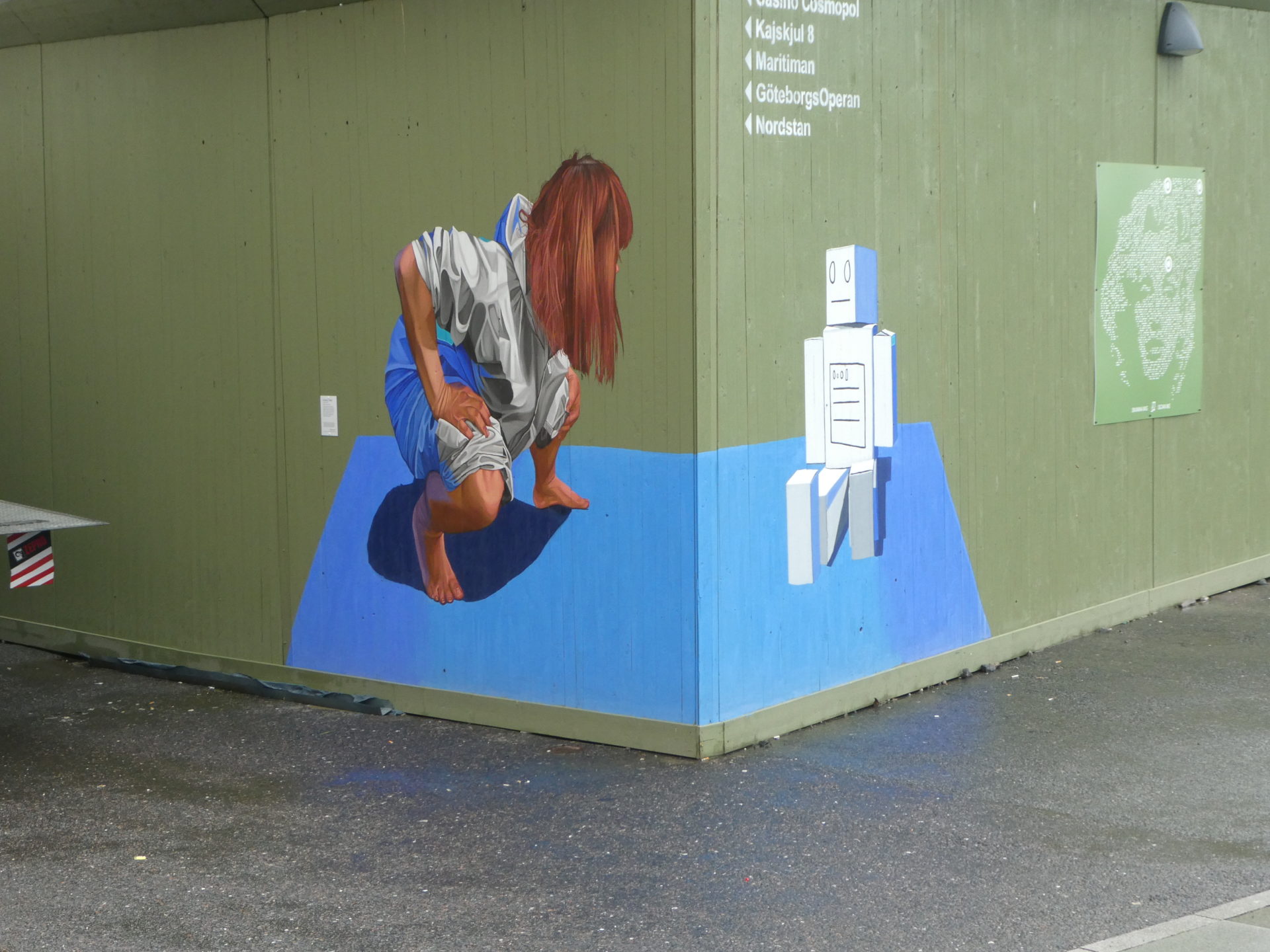 During the construction of Västlänken, The Swedish Department of Traffic has allowed artists to paint the walls of the construction sites. You'll find them all around central Gothenburg but we advise you to take a walk along Stora Badhusgatan to Esperantoplatsen to experience some of the works that have been added.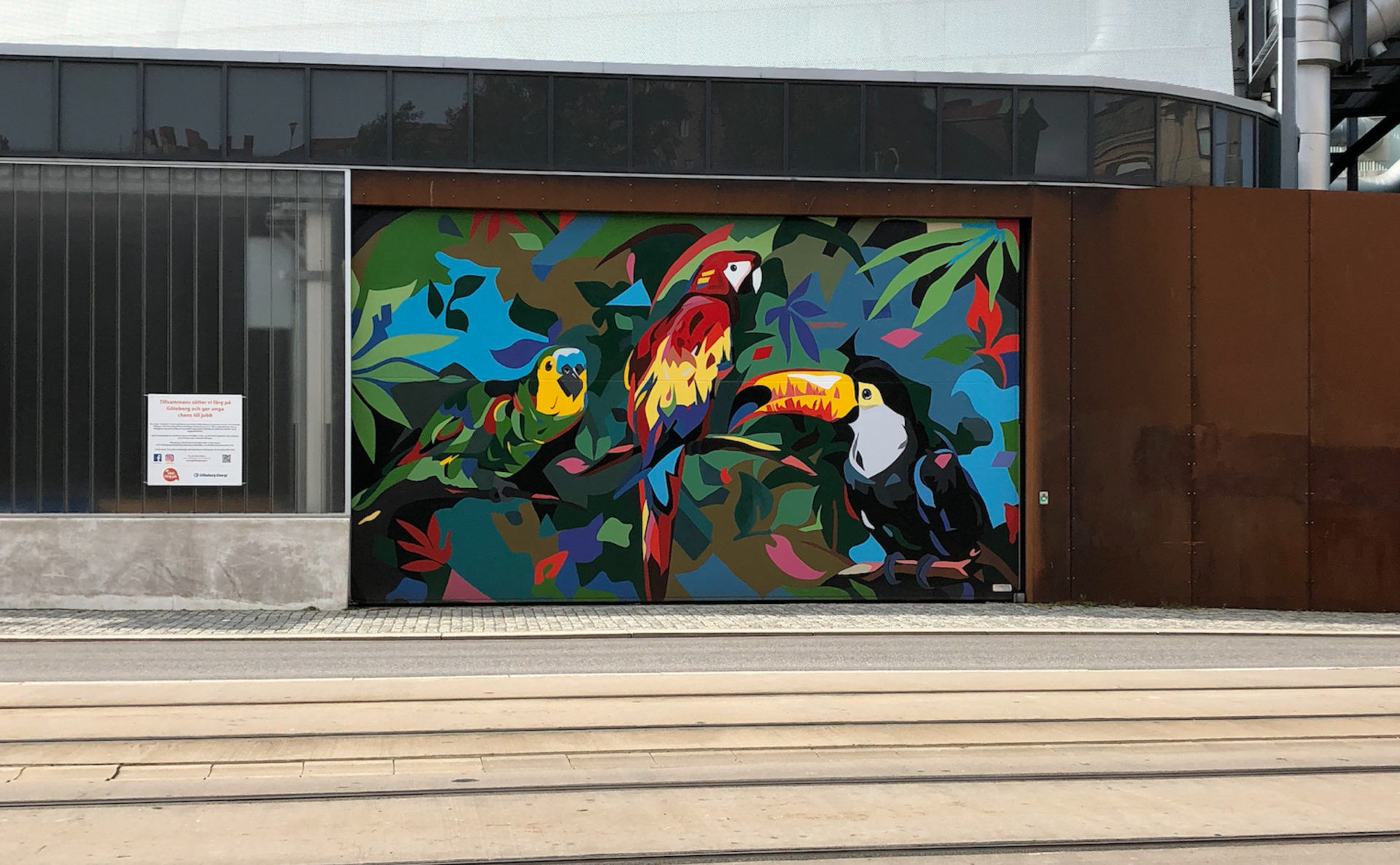 At Esparantoplatsen you'll find one of the winners of the art contest "Art 21". The Brazilian artist Rafael Alencar made the design for this as part of a Sätt Färg på project. There's plenty of good restaurants around Esperantoplatsen so feel free to stay and have something to eat before you continue. There's much art left to see around the city.